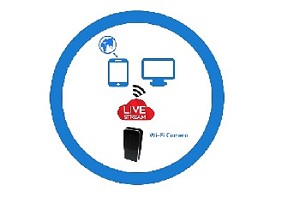 Taiwan - Feb 16, 2017 -
Live video streaming is the most convenience way to keep an eyes on your target. You will not miss any activities even you are not around. All videos live transmission to a smartphone, tablet or PC for remote video viewing, record video to a removable micro SD card.
CIU Co., Ltd supplies the real wired free live video camera in wearable and cover application design. The live monitor body worn camera is not only use for Home and Office Security Surveillance but also for first responders, it allows users to live streaming video to control rooms and allows other users to see what is happening remotely.
Mobile Wi-Fi 4G mini cameras can use in indoor monitor, outdoor security, cover surveillance, cleaning services, construction industry and more.
The Wi-Fi 4G versatile cameras can also use at public safety service area, salvage operations, inspection and money transport. Streaming live video to command center gives specialists remotely watch the workers and provide better suggestions to let them make right decisions. Watch live streaming video from Wi-Fi 4G Body Worn Camera and see your jobsite in action.
For indoor disguise application, please check CAD-01 WiFi 4G HD Adapter camera or CVR-05-WiFi 4G Mini Spy Camera Hidden in Wall
For mobile cover application, please check CRC-01 WiFi 4G HD Car Key Camera
For night application, please check CVR-05-BR IR WiFi 4G Button Camera
For body worn application, please check CVR-05-B WiFi 4G Mini Button Camera or CVR-06 WiFi 4G HD Body worn camera
For iPhone user, please check ICM-12-6W WiFi 4G iPhone 6 Camera
Company Center:
CIU Co., Ltd.