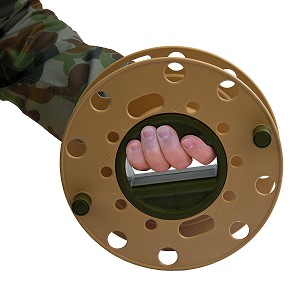 Sydney/NSW, Australia - Apr 7, 2012 -
The Ruslyn Pack Reel is now in production and in service with Defense under NATO stock number 8130-66-159-6431.
This small reel has part number AUS004754RPR-85 and is colored camo beige with khaki green handle and winder knobs. Extremely lightweight and rugged this mini reel is designed to be attached to a soldiers webbing or simply pack carried. It has been designed specifically for the dismounted soldier and clearance diver for the tangle free handling of hook and line, det cord, shock tube, firing cable, signals cable, wire and cord.
The Ruslyn Pack Reel will be used by engineers, EOD, search and rescue, clearance divers and signals. It is positive buoyant and meets all ROHS standards. It is expected that this mini reel will eventually become part of a front-line soldiers kit.
Company Center:
Ruslyn Holdings Pty Ltd