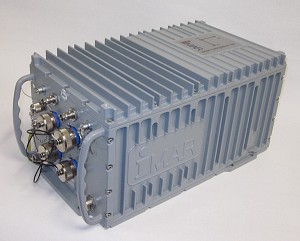 St. Ingbert, Germany - Sep 16, 2011 -
iMAR GmbH, a leading German designer and manufacturer of inertial measuring systems for navigation, stabilization, surveying, guidance and control, being designed for defence, surveying and industrial applications (www.imar-navigation.de), introduces it's 3rd generation of high performance inertial navigation systems of class iNAV-FJI-001-J (fiber optic gyro based), iNAV-RQH-1003 (ring laser gyro based) and iNAV-FMS-E-DA (tactical grade fiber optic gyros) for all demanding applications of surveying, stabilization and navigation.
Key features of iNAV-FJI are the high angular resolution of 0.01 arcsec (< 0.1 urad) and performance, very high data rate (1'000 Hz), precise time referencing / synchronization, internal data storage and open interfaces like MIL-STD-1553-B, UDP, TCP/IP, RS422, CAN. The system supports GPS, GLONASS and is already prepared for GALILEO usage. The system is fully qualified to MIL-STD-810F and MIL-STD-416E and provides sub-decimeter accuracy in RTK mode.
The iNAV-FJI-001-J is designed for vehicle guidance, LIDAR and SONAR motion reference / stabilization as well as for geo-referencing and gyro compassing tasks and can be exported to all European countries, Canada, USA, Japan, New Zealand, Switzerland etc. with a simplified export procedure (causes no delay in delivery). The system is not covered by any ITAR related export restrictions.
iNAV-RQH-10018 is fully interface (mechanical, electrical, data formats) and function compatible but is based on advanced ring laser gyro technology, providing best long time bias stability and lowest scale factor deviation of 5 ppm. Data rate is up to 300 Hz.
With iNAV-FMS-E-DA furthermore a fully compatible system is just launched to first customers, which is not covered by any export license and uses tactical grade fiber optical gyros in combination with a multi antenna GPS setup to achieve heading without the need of high performance gyroscopes on naval and surface vessels as well as on aircraft and UAVs.
iMAR Navigation, based in St. Ingbert, Germany, where it has its headquarters, development center, environmental and motion test labs and production site, has extensive experience in conception, development, production and maintenance of inertial measuring and navigation systems destined to a wide range of standard and special applications in various fields like defence, surveying, stabilization, guidance and control. iMAR is certified to ISO9001 and EN9100. With its EASA Part21 G certification iMAR is enabled to manufacture components and systems for aviation.
Internet: www.imar-navigation.de
Contact: sales@imar-navigation.de
Company Center:
iMAR Navigation GmbH