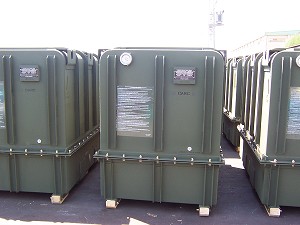 MIGDAL HAEMEK, Israel - Aug 24, 2009 -
TAMOR S.M.R Ltd for ** Metal ** Rubber Bonded to Metal ** Rubber
LARGE METAL STORAGE CONTAINER MANUFACTURED BY TAMOR S.M.R. LTD.
Large, metal storage containers for engines and transmissions is only one of the more recent applications of TAMOR SMR LTD capabilities in the production of military items. The steel containers, built to customer (TACOM - USA Army) design and per military specification, implement many of TAMOR's in-house metalwork and rubber vulcanization processes and technologies.
The TAMOR factory, using cutting, bending, CNC milling and machining (horizontal, vertical and turning), welding, shot blasting (shot peening) painting and preservation produces durable, serviceable containers for engines.
TAMOR's know-how in bonding rubber and metal is of critical importance in ensuring the safe storage of the contents, which include tank or trucks engines or transmissions. The rubber/metal antivibration pads, manufactured by TAMOR and assembled into the interior of the storage containers, provide the sturdy but flexible base necessary to protect stored goods against shocks and movement. The vacuum sealing and the hygroscopic agents provide the best preservation against humidity.
TAMOR's expertise in manufacturing structurally sound storage containers has been documented by government authorized inspectors who subjected the products to rigorous FAT field tests including free fall drop testing from numerous angles and heights and air leakage testing.
TAMOR S.M.R Ltd, as the manufacturer of metal and rubber bonded to metal parts and assemblies, designs, develops and manufactures large, complex, structural products for defense, civilian and other industrial applications.
For more information please contact Tamor S.M.R.
Tel: +972-4-654-6735
Website: WWW.TAMOR.CO.IL
Company Center:
Tamor S.M.R. Ltd.