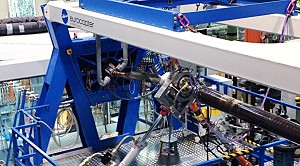 Darmstadt, Germany - Feb 20, 2014 -
Airbus Helicopters (formerly Eurocopter Group) is a global helicopter manufacturing and support company. It is the largest in the industry in terms of revenues and turbine helicopter deliveries. With the growth and advancement of their product offer, Airbus Helicopters identified a need to upgrade their component test benches at their newly enhanced manufacturing location in Donauworth, Germany.
The legacy 'General Measurement and Control System (GeMCoS)' to be replaced at Airbus is a comprehensive and proprietary concept that is utilized across all of their component test benches. It is a far-reaching and well thought out design - but one that is also very 'custom' and 'closed' , making it difficult to expand and fairly inflexible to future requirements. The design of the new system had to be able to provide both the functionality that Airbus had become use to, while utilizing modern and flexible technology that could easily be expanded going forward.
Well-known test automation technology suppliers from around the world presented their ideas and displayed their expertise in the areas of precise measurement and control technologies specifically required for Airbus. After a long and intensive evaluation considering all technical and commercial aspects of the project, Gantner Instruments was selected to provide the total solution for Airbus.
To provide the 'total solution' that Airbus required for this project, Gantner teamed up with long time software partner Stiegele Datentechnik (www.stiegele.eu) and long time automation and control integration partner Optimeas (www.optimeas.de). Together the three companies founded a new working consortium known as "G.S.O" (Gantner Stiegele Optimeas), focused on total data acquisition and control solutions specifically for Airbus.
The heart of the new system is the Q.bloxx EC family of products, mounting in 19″ rack mount packaging. The Q.bloxx-EC provides the highest in performance and flexibility - meeting and exceeding the most demanding test, measurement and control applications like found at Airbus.
Company Center:
Gantner Instruments