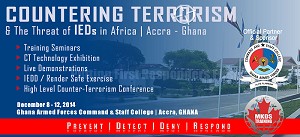 Montreal, Quebec, Canada - Jun 24, 2014 -
MKDS Training have been tasked by the Ghana Armed Forces Command & Staff College (GAFCSC), to provide a series of Counter Terrorism, Infrastructure Protection and Counter-IED Training Seminars for a duration of 5 days during which Participants from a cross section of African states will have the opportunity to attend.
These training seminars will be conducted by MKDS Training SMEs, and will take place on December 8 - 12, 2014 at the Ghana Armed Forces Command and Staff College (GAFCSC), Accra - Ghana.
The event will feature Training Seminars, CT Exhibition, Technology Demonstrations, IEDD / Render Safe exercise, and one (1) day Security and Counter-Terrorism in Africa Conference on December 12, featuring high level speakers from regional and international Governments, Militaries and NGOs, assessing the current security threats and challenges in Africa, and their regional and global implications.
The event will also offer CT solution providers an exclusive opportunity to gain exposure by exhibiting, demonstrating their capabilities and enhancing visibility among influential leaders and decision-makers from the African continent and beyond. Industry Exhibition and Live demonstrations will take place on December 11 - 12, 2014.
About MKDS
MKDS Training is a recognized market leader in delivering Counter‐Terrorism solutions, specialist consultancy, Strategic operational support and training. We provide government agencies and International corporations with strategic advisory services to help manage and reduce their risks from acts of terrorism, protect their assets, and adapt to the ever-changing operational needs. For further details please visit www.MKDS-Training.com
About GAFCSC
The Ghana Armed Forces Command and Staff College (GAFCSC) was first established as a National War College in October 1963. It was made a tri-service institution in 1976 to train Grade II Staff Officers. Course 1 of the Senior Division assembled on 10 January 1977 with 28 Ghanaian officers. At the moment, GAFCSC trains not only Ghanaian officers but officers from across the continent of Africa. The current course, Course 35 is made up of 67 participants including 23 from 11 sister African countries namely Nigeria, Rwanda, Zambia, Togo, Sierra Leone, Burkina Faso, Cote D'Ivoire, Tanzania, Malawi, Mali and Liberia.
For more details on the GAFCSC please visit: www.gafcscmil.edu.gh/
For further details please contact
CT-IED@MKDS-Training.com
T.: +1.514.484.9888
www.MKDS-Training.com
Company Center:
MKDS Training