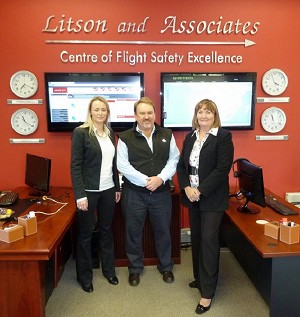 Cape Town, South Africa - May 21, 2012 -
Aviation safety advisory and quality management systems company Litson & Associates has chosen Hi-Fly Marketing, the growing South African company specialising in technical services in the African aviation industry, to represent them in Africa.
Litson is a South African success story. It started operations in 2008 with the idea of developing a package of safety services for the civil aviation industry at affordable rates. Many companies were already developing quality, safety and risk management solutions but very few were truly accessible to the smaller organisations due to prohibitive pricing or the bulkiness of the systems offered. Litson saw the opportunity. Today, Litson assists aviation operators around the world to improve their safety. Litson's advisors and trainers are available to assist clients who require solid aviation safety advice, safety and quality management systems, Safety Management Systems (SMS), eSMS-S(tm) and eREP-S(tm) systems, training, safety auditing and assessing.
SMS has now become a standard throughout the aviation industry worldwide. It is defined by the International Civil Aviation Organization (ICAO) as a systematic approach to managing safety, including the necessary organizational structures, accountabilities, policies and procedures. As per ICAO requirements, service providers are responsible for establishing an SMS which is accepted and overseen by their State. Service providers include approved training organizations that are exposed to safety risks during the provision of their services; aircraft operators; approved maintenance organizations; organizations responsible for type design and/or manufacture of aircraft; air traffic services providers and certified aerodromes. A standard SMS must identify safety hazards, ensure that remedial action necessary to maintain an acceptable level of safety is implemented, provide for continuous monitoring and regular assessment of the safety level achieved, and aim to make continuous improvement to the overall level of safety.
Litson has developed a unique, secure web based eSMS-Simplified tool, eSMS-S(tm), which makes the implementation of SMS very simple and most importantly very cost effective. Already well known in African general aviation, Litson's advisory services are now available for the scheduled air transport sector via the new representation agreement signed with Hi-Fly on the 7th of May 2012. "After meeting at the 20th AGM of the Africa Aviation Safety Council (AFRASCO) in Botswana last year, it became obvious that Litson and Hi-Fly had a lot of synergies to exploit", said Mike Litson, Managing Partner of Litson & Associates. "Our various meetings and exchanges with Hi-Fly, together with the reputation of Hi-Fly's team have encouraged us in our choice and in the necessity of a partnership to penetrate the scheduled airlines market", he added.
Operating in Africa since 2008, Hi-Fly is a South African based aviation services and consulting firm, with a particular focus on technology systems and engineering expertise for improving operational efficiency and safety. The company's main areas of expertise are maintenance software solutions, Flight Data Monitoring services, engine maintenance and advanced training (flight and maintenance qualifications).
The two companies have considerable complementary expertise in harnessing the latest in aviation technology, and are working together to bring a unique opportunity to African airlines. Hi-Fly will promote Litson's entire range of services. "We are delighted to start this partnership with Litson and we truly believe this is a great opportunity for African airlines and aircraft operators" says Alexandra Guillot, Hi-Fly's General Manager.
# # #
Litson & Associates
Litson & Associates is very focussed in the field of aviation safety with particular regard to aircraft operator safety & quality audits, advisory services, the implementation of aviation Safety Management Systems, eSMS-S(tm) web based Safety Management System and aircraft safety training.
Litson & Associates is the pre-eminent aviation safety advisory services company operating predominantly but not exclusively, throughout Africa and South America. It is well known for its services to the oil, gas and resources sector industries and VIP aviation operations. The company has highly experienced Aviation Advisors and Lead Auditors based in South Africa, the United Kingdom and the USA. It was the roll-out aviation Audit Company worldwide for the Flight Safety Foundation BARS audit Standard. Litson is an Approved Training Organisation (ATO) specialising in Safety and Quality training and has been the Africa distributor for Spidertracks portable satellite tracking equipment for the past three years.
Visit www.litson.co.za for more information.
Press Information: Karen Litson, Litson & Associates Tel: +27 218800059
E-mail : karen.litson@litson.co.za
# # #
About Hi-Fly Marketing
Hi-Fly Marketing is a South African aviation company which represents global leaders of the industry on the African continent; namely ADSoftware, Sagem (Safran Group), ESMA Aviation Academy and EADS Seca.
The company's objective is to facilitate the expansion of its clients via the implementation of appropriate technology systems, engineering and training services. To achieve this, Hi-Fly's works hand in hand with its partners to provide a reliable outsourced alternative to African airlines, aircraft and helicopters operators, CAMO, MRO and AMO organizations needing specialist technical expertise backed by broad aviation industry knowledge. Hi-fly's particular focus is to improve operational efficiency and safety.
Visit www.hiflymarketing.com for more information.
Press Information: Alexandra Guillot, Hi-Fly Marketing Tel: +27 218136980
E-mail : alex@hiflymarketing.com
Company Center:
Hi-Fly Marketing