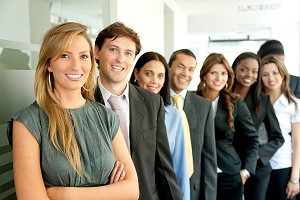 Philadelphia, PA, United States - Mrch 19, 2009 -
Day & Zimmermann Expands Solutions Offerings for Federal Government
The Government Technical Solutions business will serve federal agencies and military branches
Philadelphia, Pa.-March 19, 2009- Day & Zimmermann, a nationally recognized provider of diversified services and outsourcing solutions for government and commercial customers, today announced it has increased its presence in the federal government staff augmentation and outsourcing market by joining its related operations under the name Day & Zimmermann Government Technical Solutions. This business, led by Vice President Joseph McNeily, will expand Day & Zimmermann's program management and staffing offerings to the federal government and armed services, as well as contractors and small businesses that serve this sector.
"As a Top 100 defense and government contractor, Day & Zimmermann has successfully provided staff augmentation and management services for various government and military customers for decades," said Michael Yoh, President and CEO of Munitions and Government for Day & Zimmermann. "This new business unit will allow us to further emphasize our capabilities in this area, and provide our first-class services to a wider range of customers."
The primary offerings of the Government Technical Solutions group are professional services, including staff augmentation and functional outsourcing, human capital planning services, and business process consulting services. The scope of these services will include both long- and short-term assignments, as well as large and small volume requests. Day & Zimmermann will continue to deliver measurable value through full visualization of assets and operations, cost-effective service delivery, performance-based responsiveness and delivering the best talent and best practice support services.
Day & Zimmermann has assisted government agencies and companies with their subject matter expert, professional, technical, administrative, and customer service personnel and business outsourcing needs for close to a century. One of Day & Zimmermann's core businesses, Yoh, was the first technical staffing firm in the U.S. and one of the country's largest providers of talent and outsourcing services. In serving the federal government, Day & Zimmermann will continue to leverage Yoh's proven technical fulfillment and workforce management capabilities in information technology, scientific, engineering, health care and telecommunications.
ABOUT DAY & ZIMMERMANN
Day & Zimmermann accelerates customer success by delivering diversified services. Operating from more than 150 worldwide locations with 2.4 Billion USD in revenues, the Day & Zimmermann family of companies employs 24,000 professionals and is currently ranked as one of the largest private companies in America by Forbes and is a former winner of the U.S. National Family Business of the Year award. Founded in 1901 and headquartered in Philadelphia, PA, Day & Zimmermann companies today provide architectural-engineering-construction services, power plant maintenance, modification and specialty services, security services, staffing services, and validation services to businesses and government agencies, and munitions production, equipment maintenance and facilities management services to the Department of Defense.
Company Center:
Day & Zimmermann, Inc.