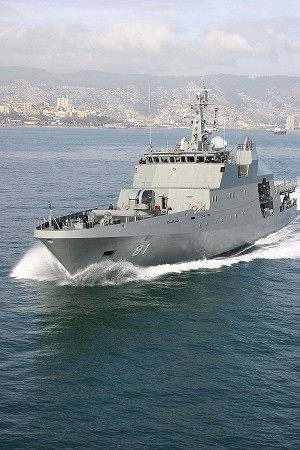 Santiago, Chile - Dec 11, 2008 -
DESA S.A. signed a contract with the Chilean Navy's maritime territory directorate (Direccion General del Territorio Maritimo) a contract called for the supply, installation, integration & testing of the ARIES small naval weapon fire control system for chilean OPV's PZM "Policarpo Toro" and "Piloto Pardo".
These ships are being buily by chilean Navy's shipyards, ASMAR using a design by Fassmer GmbH. PZM Pardo is already in operational status and
PZM Toro is being prepared for harbour trials. Ship's command is supported by Northrop Grumman's IBS (Integrated Bridge System) featuring 2 X-band and 1 S-band radars, autopilot, etc.
ARIES fire control system will provide accurate and effective gun support for the ship's patrol and maritime interdiction operations (MIO). Based on the ship's radars and integrating an optronic thermal/daylight sensor, ARIES will handle surface target gun direction as well as air defense capabilities suited for the ship's role. Currently providing fire control for a Bofors 40mm dual role gun, ARIES can be fitted with almost any medium caliber weapon, as well as providing many configuration options that can be customized for many types and sizes of vessels.
Company Center:
Desarrollos de Automatizacion S.A. (DESA)