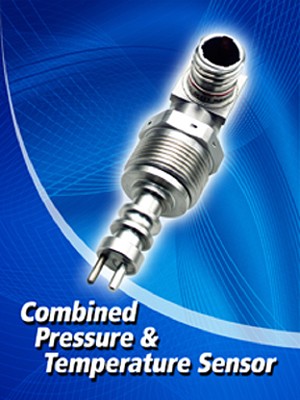 Moorpark/CA, United States - Jun 18, 2009 -
Kavlico, a global business unit of Custom Sensors & Technologies (CST) has recently released a combined pressure and temperature sensor intended for use in monitoring hydraulic systems aboard aircraft and on ground support vehicles. Ideal for harsh environments with extreme temperature fluctuations, high vibration, humidity, and active chemical attack; these compact sensors provide a reliable and accurate measurement solution. Due to their small form factor, the sensors are well-suited for active control systems, system status, and health monitoring.
Typical applications include:
* Distributed hydraulic power-by-wire
* Actuator control
* Force fight monitor and control
* Feedback control of power drive systems
Available in pressures ranges of 0-500 through 0-10,000 PSIA (0-30 to 0-700 Bar), the sensors have an operational temperature range of -55 to +125oC with an isolated thermowell. The lightweight sensors (<6.5oz.) have a stainless steel housing and are supplied with a Mil-38999 style connector, with additional configurations available. Operating on 5 to 15 Vdc with higher range options, the sensors can be configured with an amplified (0.5 to 4.5 Vdc) or non-amplified (50 to 100 mV at 10 Vdc excitation) output. Sensor accuracy is +/-1.0% Full Scale Output (FSO) over the operating temperature range while some ranges can be provided with +/-0.5% Full Scale Output (FSO). The process (pressure) connection can be ordered as a threaded insert to manifold, metal-to-metal seal, or with an o-ring with hold down nut.
With an MTBF of 300,000 hours at nominal operating pressure, the standard option sensor is qualified to DO 160 requirements for shock, vibration, altitude operation, and environmental conditions such as salt fog, moisture, and dust.
About Kavlico
Kavlico is an operation of Custom Sensors & Technologies (CST). Kavlico is a leading manufacturer of pressure, position (LVDT & RVDT), force, level, tilt, media quality, and other specialty sensors, and transducers for the transportation, industrial and aerospace & defense markets. www.kavlico.com
Company Center:
Kavlico