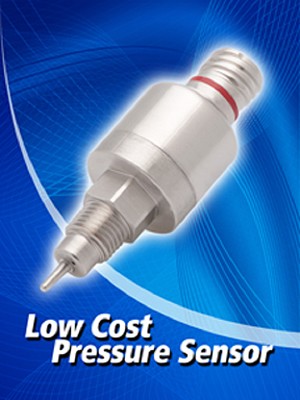 Moorpark/CA, United States - Jun 18, 2009 -
Kavlico, a global business unit of Custom Sensors & Technologies (CST) has recently designed a low cost, stainless steel configuration pressure sensor for low pressure range measurements of 0-1 PSI through 0-350 PSI gage, absolute, or differential. The highly reliable pressure sensor has an MTBF of 300,000 hours at nominal operating temperature.
Typical applications include:
* Cabin Air Pressure
* Filter Health Monitoring
* Manifold Absolute Pressure (MAP)
* Engine Oil Pressure
* Transmission Fluid Pressure
* Water Pump pressure
* Barometric (BAP) Pressure
Typical platforms include:
* Aircraft
* Troop Transport Vehicles
* Unmanned Aerial Vehicles (UAVs)
The lightweight pressure sensor (<6.5oz. Max.) is available with either an amplified (0.5 to 4.5 Vdc) or non-amplified (50 to 100 mV at 10.0 Vdc) output and can be packaged with an isolated or non-isolated temperature sensor. Typical pressure ranges include 0-1, 0-10, 0-30, and 0-350 PSI with other options available upon request. The operating temperature range is -55 to +125oC while storage temperature is -55 to +150oC. Accuracy over the operating temperature range is +/-1% FSO, with +/-0.5% FSO available for some range options. The sensor can be supplied with a MIL-38999 connector, with flying leads or a custom electrical connector to suit the specific requirement. Pressure connector options include insert to manifold, metal-to-metal seal, or an o-ring with hold down nut.
Kavlico has leveraged 30 years of automotive high volume pressure sensor experience in order to target lower cost aerospace applications where high reliability remains essential. These new aerospace pressure sensor designs stem from the deployment of hundreds of applications and tens of millions of sensors in the automotive sector that have experienced extreme environmental conditions including temperature fluctuations, humidity, freezing water, corrosive media, shock, vibration, and millions of operating cycles.
Kavlico's pedigree in the automotive industry coupled with their decades of aerospace knowledge has produced a cost-effective pressure sensing solution without compromising on quality or performance. Using one of four sensing technologies available (MEMS, ceramic capacitive, piezo-resistive or thin film), Kavlico has the right sensing technology to suit each application-specific pressure sensing requirement.
About Kavlico
Kavlico is an operation of Custom Sensors & Technologies (CST). Kavlico is a leading manufacturer of pressure, position (LVDT & RVDT), force, level, tilt, media quality, and other specialty sensors, and transducers for the transportation, industrial and aerospace & defense markets. www.kavlico.com
Company Center:
Kavlico