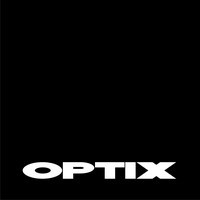 IdentifieR 100 - thermal imaging sniper weapon sight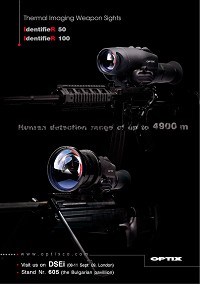 IdentifieR 50 & 100 - thermal imaging weapon sights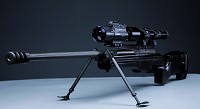 NVA-75 - night vision sniper attachment for day optical sight

TERMA 06 - mobile border control and surveillance system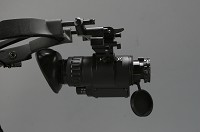 Diana M - multy-application night vision monocular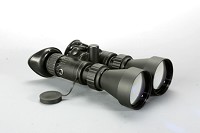 Diana TT - twin tube night vision goggles (with mounted a-focal magnifiers)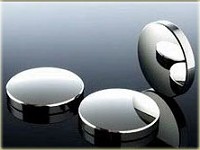 Lenses - part of Optix Co's optical manufacturing production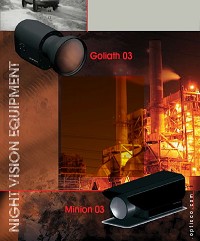 Thermal Imaging Cameras - part of Optix Co's integrated surveillance systems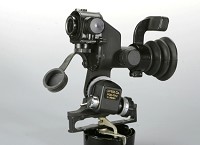 PGO-7VU - universal day optical sight for grenade launchers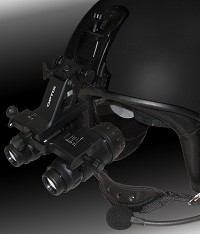 Diana A - aviator's night vision goggles
OPTIX Co.
For the past a bit over 10 years OPTIX Co. has established its name among the leading companies in the development and manufacturing of night vision and thermal-imaging assemblies, equipment and systems. A contemporary enterprise with a completely closed production cycle, founded in Panagyurishte, Bulgaria in 1998, OPTIX Co. is a 100 per cent private company that quickly built up a justified reputation for designing, manufacturing and testing of cutting edge quality optical components and assemblies, opto-mechanical and optoelectronic systems and devices for civil and defense application.
As a natural result thereof the company took the bold step of developing sophisticated night vision solutions. Soon after, the company was offering a complete product line of high quality and high durability tactical optical equipment for the modern soldier and law enforcement officer. The portfolio includes:

Thermal Imaging Weapon Sights
Mobile Thermal Imaging Surveillance Systems
Night Vision Optical Weapon Sights
Night Vision Observation Devices - Goggles, Binoculars and Monoculars
Night Vision Sniper Attachments for Optical Day Sights
Day Optical Weapon Sights
Thermal Imaging Cameras
Integrates Security & Surveillance Systems
OPTIX Co.
is proud to accept as an acknowledgment that almost all of these products are currently in commission in various military and paramilitary formations around the globe. The next step in the
OPTIX Co.
product development occurred in the field of thermal imaging and complex integrated systems design and implementation.
OPTIX Co. is one of the first companies in Europe to have acquired a completely Integrated Quality Management System which includes the following standards: ISO 9001, ISO 14001, ISO 27001, OHSAS 18001, and AQAP 2110 NATO Standard.
In three consecutive years - 2005, 2006 and 2007
OPTIX Co.
has been awarded the prize "Innovative Enterprise of the Year". In 2006 the company also won "Investor of the Year" competition held by the "Invest Bulgaria Agency" in the category "Investor in the area of innovative high technologies".
---
Products & Services
---
Last update by Tzanko Tzankov, Tue 1 Sep 2009