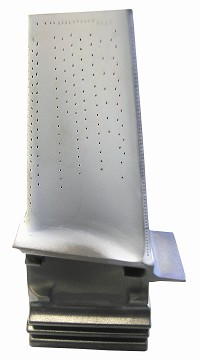 Chromalloy HPT blade CF680C2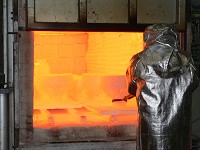 Chromalloy operates casting furnaces and announced a $16.5 million expansion at its Tampa operation to provide additional turbine engine component production and casting.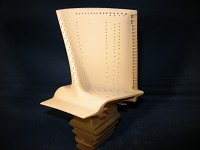 The addition of the Thermal Barrier Coating reduces the engine operated metal temperature of this High Pressure Turbine blade by more than 100 degrees, increasing its durability. Use of Thermal Barrier Coatings enable the engine temperatures to be designed hotter, resulting in increased efficiencies and additional thrust.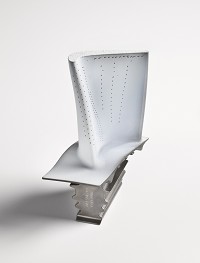 PW4000 First Stage Blade for gas turbine engine.
Chromalloy is the world's largest independent supplier of technologically advanced repairs, coatings, and FAA approved replacement parts for turbine airfoils and other critical engine components for commercial airlines, the military and industrial turbine engine applications.

With more than 4,000 employees and 30 sales and production operations in 14 countries worldwide, the company supplies components, coatings and advanced manufacturing services to original equipment manufacturers, along with extensive engineering and component repair capability for commercial aviation, marine and land-based aero-derivative and heavy industrial turbine engines.

Chromalloy's continued investment in research and development of coating, and repair and manufacturing technology has led to the development of electron beam physical vapor deposition with ceramic materials, vacuum plasma, diffused precious metal / aluminide coatings, and vision-guided interactive laser welding and drilling for most advanced turbine engine components as well as many other advanced technologies. Chromalloy has introduced a series of innovative and proprietary processes that allow engines to perform at improved efficiency levels, at higher operating temperatures and under severe environmental conditions. Additionally, Chromalloy manages assets—inventories of engines and APUs—for major airlines and MRO shops.

Chromalloy has established joint ventures and strategic partnerships in the commercial aircraft and industrial turbine engine market, primarily OEMs and their customers.
Chromalloy designs and manufactures a catalog of PMA (Parts Manufacturer Approval) replacement parts for aircraft engines that are FAA certified to meet or exceed the performance, reliability and durability specifications of original equipment manufacturer parts. Chromalloy also provides thermal barrier coatings, helping to increase fuel efficiency and thrust in turbine engines as well as specialized component repairs, providing end users with multiple options when faced with damaged or excessively used components. Chromalloy is the only supplier providing PMA parts for the critical hot section of gas turbine engines.
The company serves commercial and military customers worldwide and has operations and sales offices in the U.S., Mexico, the U.K., Netherlands, Italy, Germany, France, the U.A.E., Israel, China, Singapore, Thailand, Japan and Australia. Chromalloy is a division of Sequa Corporation, a portfolio company of the Carlyle Group.
---
Products & Services
---
Last update by Cathy Gedvilas, Mon 3 Aug 2009