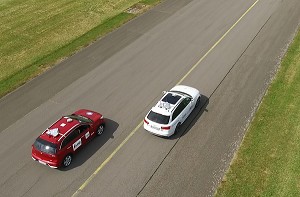 St. Ingbert, Germany - Sep 8, 2018 -
Truck Platooning
Proving Ground Instrumentation & Automation
for Validation of Highly and Fully Automated Driving Vehicles
iMAR just introduced its new proving ground instrumentation and automation setup iSWACO-ARGUS. iSWACO-ARGUS is the solution for the verification and validation of the safety relevant dynamic driving task features (DDT) of partially, highly and fully automated driving systems (ADS), like object detection and response systems (OEDR). It covers all SAE levels, i.e. from level 1 "hands on" up to level 4 "hands off, mind off - sometimes" and level 5 "hands off, no driver", with a single test infrastructure.
iSWACO-ARGUS stays for "Swarm Control & Continuous Surveillance" and controls and monitors the motion behaviour of all vehicles on the proving ground and gives the unmatched flexibility to generate and execute also precise repeatable tests within real emulated traffic scenarios or even on public roads.
The iSWACO-ARGUS infrastructure can be installed quickly, simply and safely on arbitrary proving grounds and test vehicles. Thus, it is the testing and automation solution for both, OEMs and testing / homologation organizations.
iSWACO-ARGUS is one of the most accurate solutions also for platooning testing of trucks and other vehicles.
Additionally iMAR also provides navigation and control solutions for all types of operational vehicles.
Details (Link) for Datasheet:
https://www.imar-navigation.de/en/products/by-product-names/item/iswaco-argus-proving-ground-infrastructure-for-testing-vehicles-up-to-sae-level-5
Link to YouTube Video (iMAR video):
https://www.youtube.com/watch?v=_dZ9ouL36ok
Company Center:
iMAR Navigation GmbH