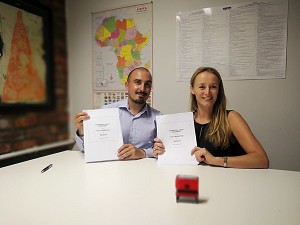 Cape Town, South Africa - Mrch 20, 2018 -
Maureva a leading software and service solutions provider for the airline industry, has chosen Hi-Fly Marketing, the growing South African company specialising in technical services in the African aviation industry, as its commercial representative for its ALEXIS – Flight Scheduling & Crew Management solution for the Subsaharian African Region.
Maureva's ALEXIS Flight Scheduling & Crew Management enables airlines to address the challenges of flight and crew scheduling as well as daily operations management while improving user efficiency and optimizing both aircraft and crew utilization through high level automation. This generates a substantial revenue improvement for airlines. ALEXIS Flight Scheduling & Crew Management has already been adopted by Air Austral, Air Vanuatu and most recently Air Zimbabwe.
Operating in Africa since 2008, Hi-Fly Marketing is a South African based aviation services and consulting firm, with a vast knowledge on airlines operational software solutions.
I have known and followed Hi-Fly Marketing development for many years and have witnessed their expertise and knowledge of the African market. Hi-Fly Marketing was a natural choice when we started looking for a reliable partner to support our development for our new ALEXIS Solution in the region. We are pleased to start this collaboration with their expert team – Romain Angella, Head of Business Development – Maureva.
Both companies share a commitment to innovation and a combined vision for the future of the airline industry. This partnership aims to bring greater value to African airlines by delivering enhanced capabilities and operational efficiencies through a flexible and cost-efficient Flight Scheduling & Crew Management solution.
Maureva has proven that they are committed and able to be the partner we're looking for. Maureva's expertise in developing airline software solution along with our aviation knowledge ensures that our offerings are always up to date with the latest regulations in the airline industry.We are looking forward to a successful and fruitful collaboration. - Alexandra Guillot- CEO at Hi-Fly Marketing
About Hi-FLY Marketing:
Operating in Africa since 2008, Hi-Fly Marketing is a South African based aviation services firm, with a particular focus on technology systems and engineering expertise for improving operational efficiency and safety.
Hi-Fly Marketing provides consultancy and services to the aviation industry, specializing in helping clients in their business development through a range of strong representations of global leaders.
Our services offering has been put together with our valuable partners. We all share the same professional views and ethic in business. We encourage collective effort in the industry and believe that is the only way to move the entire industry forward to the highest level of safety standards and best practises. Our specific objectives:
• Strengthen the capital base of African carriers through strategic partnership
• Optimise the fleet choice, maintenance and usage
• Build up IT structures adapted to local requirements and to global standard
• Increase efficiency, organisation and make airlines competitive
More information on: www.hiflymarketing.com
About Maureva:
Maureva is a leading software and service solutions provider for the airline industry. With more than 20 years' experience, we are specialized in the field of airline revenue accounting and business intelligence.
By keeping a strong focus on the uniqueness of each of our client airline, we ensure that our solutions provide the right level of adaptation to integrate specific business requirements while always adhering to industry standards, in order to deliver efficiency levels above standards.
As an IATA strategic partner in both Airline Revenue Accounting and ONE Order program, we are proud to serve this industry and more than forty prestigious Airline companies stretching all over the five continents, and to enable them to strengthen their competitive advantage, to lower their costs and to gain easy access to comprehensive insight analytics.
More info: www.maureva.com
Contact info:
Dimitry Ah-Yu
Marketing
Email: marketing@maureva.com
3rd Floor Orange Tower, 72201 Ebene Cyber city | Mauritius
Tel: +230 466 68 30 | +33 1 75 43 40 48 | Fax: +230 466 71 97
Company Center:
Hi-Fly Marketing