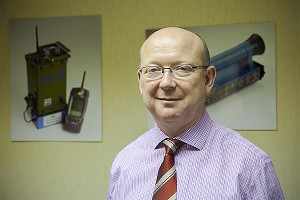 United Kingdom - Mrch 18, 2014 -
Argon Electronics, global leaders in the development of CBRN and HazMat simulators and training systems, are enhancing service for customers by appointing Tim Knight as Business Development Manager. With operational experience in the armed forces, coupled with industry experience in bio-decontamination and other related industries, Tim brings considerable expertise that will help Argon's customers to specify the best possible CBRN/HazMat training equipment. Tim's main focus will be on further development of the company, and promoting the importance of CBRN/HazMat training amongst the military and first responders.
Tim Knight has established a successful career as a business development professional in the defence industry worldwide. Steven Pike, Managing Director of Argon Electronics notes, "We work closely with a number of agencies both at home and abroad, so it was crucial for us to bring in someone who is understanding and sensitive of different cultures and the discretion needed in our industry. Tim's global experience meets that need."
Having worked in the biological and pharmaceutical industry and as a Medical Physics Technician at Porton Down Tim will be vital in assisting Argon Electronics develop a wide, reliable and modern range of products. In addition, his operational experience as an Army Reserve in both Iraq and, more recently, in Afghanistan will help Argon to develop the best possible products. "Being in active service has given me a thorough understanding of military requirements and in use of CBRN equipment in the field," Tim says. "As a reservist, I appreciate how essential training is, especially in the realistic scenarios that Argon's simulation equipment creates."
Company Center:
Argon Electronics