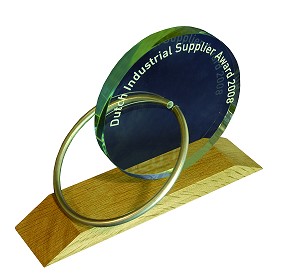 Veghel, Netherlands - Jan 12, 2008 -
Cortexon was chosen on 5 November 2008 as the best industrial supplier in the Netherlands. The jury selected Cortexon from 154 companies nominated by outsourcers as the winner of the Dutch Industrial Supplier Award 2008.
Prestigious prize
The Dutch Industrial Supplier Award is an initiative by Link Magazine, a management journal for industrial outsourcers and suppliers, and ING bank. Since the first edition in 2002 it has developed into a leading event with a prestigious prize. This is partly due to the objective philosophy. Unlike most awards, for which candidates can nominate themselves, the nominations for this award are submitted by the customers. Companies that are named as preferred supplier by several customers undergo an extensive assessment (using the Demand Chain Navigator, a tool designed with the cooperation of Berenschot). Specialists from the ING subject the finalists to a financial scan.
This year, eleven candidates reached the final after two elimination rounds: five in the category System, Process & Part Suppliers (from more than 150 nominations) and five in the category Value Added Resellers (from almost sixty nominations). For each category, a jury of customers selected the final winners.
Cortexon came out on top in the first category, winning a work of art, because in the jury's view, Cortexon has developed into a supportive, efficient and flexible system supplier.
Company Center:
Cortexon BV