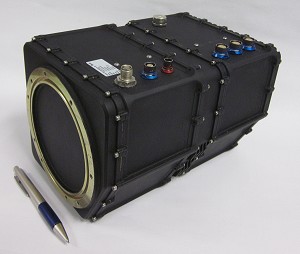 St. Ingbert, Germany - Sep 26, 2011 -
iMAR GmbH, a leading German manufacturer of inertial measuring systems for navigation, stabilization, surveying, guidance and control, being designed for defence and industrial applications (www.imar-navigation.de), has delivered two customized high precision Stabilization Electronics with integrated Ring Laser Gyro based Navigation and Geo-Referencing System (iNAV-RQH + iSCU) to a German customer. The INS/GNSS based systems are used to stabilize a 40 kg optical payload, three axes gimballed, on a high altitude operated aircraft with arcsec resolution. Beside of the ring laser gyros, advanced low noise MEMS gyros are used for a feed-backward control on the payload, while the RLG based navigation system is used as a feed-forward control system in the entire control loop. All, beside of the MEMS gyros, which are located close to the optical sensors, is included in one compact casing, withstanding the environmental conditions of -70 oC in the outside sensor bay of the aircraft.
About iMAR Navigation:
iMAR Navigation, based in St. Ingbert, Germany, where it has its headquarters, development center, environmental and motion test labs and production site (40 engineers and technicians), has extensive experience in conception, development, production and maintenance of inertial measuring and navigation systems destined to a wide range of standard and special applications in various fields like defence, surveying, stabilization, guidance and control. iMAR is certified to ISO9001 and EN9100. With its EASA Part21 G certification iMAR is enabled to manufacture components and systems for aviation.
Internet: www.imar-navigation.de
Contact: sales@imar-navigation.de
Company Center:
iMAR Navigation GmbH