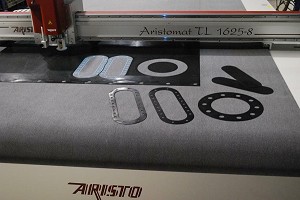 Leek, Netherlands - Apr 10, 2009 -
With the introduction of a new automatic cutting machine, Hofland Deltaflex Rubbertechniek increased their services and products diversity. The new Aristo TL1625 gives us the opportunity to cut a product very quickly out of sheeting almost any material, as a gasket or other sealing element.
Almost every design or shape can be cutted.
When a digital drawing is available, products can immediately be produced and shipped
Almost every gasket, ring, or other sealing part can be cutted by the automatic CNC cutting machine.
Company Center:
Hofland Deltaflex Rubbertechniek BV