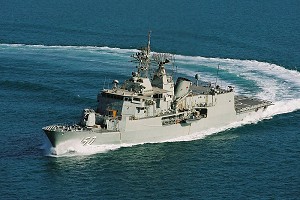 Adelaide, SA, Australia - Mrch 24, 2009 -
Saab Systems has signed a contract with the Australian Defence Material Organisation to develop a multi-link capability for the ANZAC class frigates and the Canberra class amphibious ships. The total project is worth AUD 42 million with Saab's share being AUD 32.5 million. This project will provide the ships with NATO Link 16 and VMF (Variable Message Format) to enhance the existing NATO Link 11.
Saab provides combat systems design expertise within the ANZAC ship Alliance which has responsibility for the generation of new capability and the sustainment of existing capability for this vital backbone of the Royal Australian Navy and to navies globally.
The contract commenced on 24 March 2009 and is planned to last five years. Managing Director of Saab Systems Pty Ltd in Australia, Mr Lindsay Pears said,
"This important project confirms Saab's pre-eminence as the leading data link and naval systems integrator in Australia. It comes on top of existing contracts to upgrade the ANZAC ships 9LV Combat Management Systems through the Anti-Ship Missile Defence project and the development of combat management systems for the amphibious ships. The project will peak at approximately 25 staff, predominantly engineers working in Saab's Adelaide facility and there will be opportunities for new staff arising from this work."
"The project confirms our partnership with BAE Systems Australia and the Defence Material Organisation as part of the ANZAC Alliance and importantly it adds a partnership with Northrop Grumman Mission Systems acting as subcontractor for the supply of the Data Link Processor."
Multi-link communication is a key capability that will be re-used world wide in Saab's combat management systems, fighter command an control systems and similar environments.
Company Center:
Saab Technologies Australia Pty Ltd